02 de Setembro, 2018
joana rita sousa
Searchinf for #p4c, on Twitter, has helped me find so many people that dedicate their time doing, studying philsophy for children. The Lipman's program well knowed as P4C has been adapted and used with teenagers and even grown ups. Zoran Kojcic has been applying P4C with teenagers - and that's why I invited him to share some toughts with us.
First of all, a short bio so you can get to know Zoran: 
Zoran Kojcic (1986), philosopher and author, holds MA degrees in Philosophy and Croatian Philology from University of Osijek, Croatia. He is certified Philosophical Counsellor, board member of Petit Philosophy Association and member of Croatian Philosophical Association. Since 2011 Zoran teaches Literature and Ethics in high schools and also works as coordinator on several international projects. Zoran presented papers on more than 15 international conferences and published popular and scientific papers on Philosophy of Education and Philosophical Practice worldwide. Zoran is also the author of philosophical novel 'Walk through…' (Presing Publishing, 2014). He is a PhD candidate in Philosophy at Sofia University in Bulgaria, doing a research on philosophical counselling practice.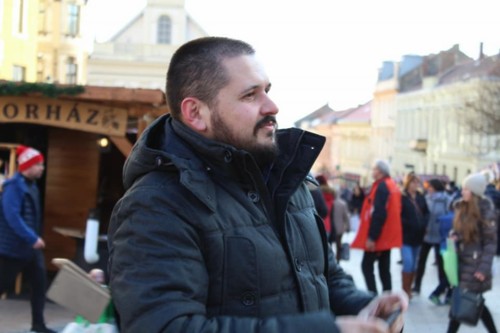 And now, time for Q & A!
Can you recall the first time you heard about philosophy for children (p4c)?
I was introduced to P4C when I was studying for my Masters degree in Philosophy, in 2010, by my professor Bruno Curko from Croatia. He and some others have already formed Petit Philosophy, first association for P4C in Croatia and have already started implementing workshops in schools in 2009. In Croatia, students have Philosophy as a subject in high schools, but not in elementary schools, so this concept was really interesting to me at that time.
How did you started working with p4c?
Right after I graduated, in 2011, I started working in high school and also joined Petit Philosophy, which is also where I work until this day. We applied for many different projects and grants, mainly covering ethics and civil education, and we tried to combine philosophy with other subjects in schools. First bigger project I worked on combined philosophy with literature, art, music and film and it offered our students opportunity to explore all those approaches.
Do you think p4c is necessary to children? Why?
We still don't know whether it is necessary, but we have seen in practice that it offers them tools which later help them think for themselves and think more clearly. I can speak from experience that many students which are engaged in some form of P4C show broader understanding of issues in hand and more abilities in recognizing the problem, analyzing the situation and orienting themselves toward solutions, which often tend to be sustainable, empathic and rational. Tools which philosophy uses provide students with interesting skill set for the future and for variety of different professions as well as for more humane interactions with others within society.
Nowadays children ( @ Portugal) have a lot of activities at school and after school. Why should we take philosophy to schools?
An individual should develop itself as a whole person. This means development of both body and mind. We can take our kids to play tennis or football, but we should also make sure that they equally develop their minds. Lately, I am working on Foucault's and Ancient Greek concept of taking care of the self – firstly, Socrates spoke of this, Plato also, later Stoics and in contemporary philosophy Foucault reminds us that taking care of the self, of our own self means precisely this – one should work on oneself for his/her entire life and on both ends. Just as well as you train your body, you should train your mind – by reading, thinking, discussing, questioning, philosophizing.
What makes a question a philosophical question – from a p4c point of view?
Plato famously emphasized those questions which make us wonder as the beginning of philosophy. From children's point of view, majority of the world is still a big mystery, and adults often forget that, we forget how magical some routines are.
How do trains or mobile phones work, why the sky doesn't fall down or what drives the image in our cameras. Usually those questions which are yet to reveal something to us, something unknown or unclear, no matter that they might be obvious to others, those questions could instigate some crucial sparks in us, in what we are yet becoming, especially as children who are yet to grow up.
What's the biggest challenge p4c faces, nowadays?
More locally speaking, in Croatia, we face two big issues. First, religious education and influence of the Church aren't that keen on introducing P4C to schools, just as well as the Government. We tried to offer it as an alternative to religious education in primary schools, but that probably won't ever happen. Second, influence of so called STEM subjects in high schools is big and it threatens to decrease number of humanities subjects, including philosophy.
On a more global level, we need to find better discourse which would introduce philosophy to schools, so that the children could engage in philosophical discussions and dialogue from early age. With right-wing on the rise in US and Europe, this seems really challenging.
Can you give the teachers and the parents some kid of advice to help them deal with the children's questions?
Never hide your own ignorance. Don't be that person who thinks they know everything. If children ask you a question and you don't know the answer, invite them to figure it out themselves, inspire them to investigate, motivate them to explore. In fact, let's make it as an advice also to politicians – instead of avoiding the answer when they don't know something, they should admit their ignorance. That's not a hard thing to do and people usually appreciate your honesty, just as the children do. Oh, and always motivate children to ask more and more questions!
Did the children ever surprised you with a question? Can you share that question with us?
Sure, they do that often. Few years ago I worked in a school, with children with special needs, but not in a really considerate school toward their class and their needs. It was first time for me, and some colleagues told me not to expect anything from them. As it turned out, they were quite interested in ethics. As we talked more and more, one student asked me how does a person become a philosopher. Surely, she asked the question for herself, for some reason she wanted to be a philosopher and to deal with all those questions we examined. It was a hard question for me to answer, knowing that in Croatia from special education class, she most probably couldn't become a philosopher in most regular academic way, not to mention that I was also shocked she even would consider of being one. Later we discussed that not all philosophers went to school, let alone obtained a degree.
When it comes to philosophy, you really don't need any school to tell you you're a philosopher, you can be lover of wisdom no matter what.