30 de Agosto, 2018
joana rita sousa
Through Twitter, I found Grey Havens Philosophy and reached out for contact, so that this collaborative work published in this blog could grow with their perspective about P4C.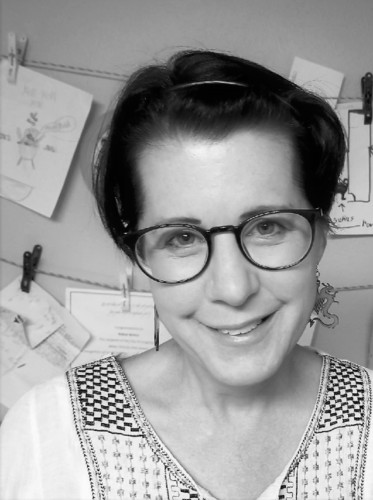 Kelly Cowling is the founder and Executive Director of Grey Havens Philosophy, a community philosophy nonprofit based in Longmont, Colorado. Grey Havens Philosophy's free programs include five ongoing philosophy discussion groups for ages 8-18. Our Philosophy in Public Spaces (PiPS) initiative is making intergenerational philosophy discussions part of the life of our community. 
Can you recall the first time you heard about philosophy for children (p4c)?
I first heard about Philosophy for Children when I took my first class with Ron Reed at Texas Wesleyan University in the early 90s. Up to that point, my experience with education had not been good. I wasn't particularly interested in becoming an educator back then, but I waspreoccupied with figuring out how education could be better than it had been for me.
How did you started working with p4c?
Through a non-traditional route. In 2010, I started a chapter-by-chapter book discussion group for adults in the back room of a locally-owned bookstore. Over time, it became quite popular and expanded into a network of book groups, a small symposium, and other events. People seemed to get a lot of meaning and fulfilment out of the gatherings. I suspected that it was because I had been facilitating discussions using what I knew of P4C.
In 2013, I and a few others partnered with our local library to establish a weekly philosophy group for 6th-12thgraders. Now, Grey Havens Philosophy is a non-profit organization that partners with our city, libraries throughout the region, other nonprofits, and businesses to bring philosophy to as many public spaces as possible.
I would call what we do P4C-inspired, rather than strictly P4C. We are always learning at the same time as we are teaching volunteers to do what we do.  Our facilitators get together every month to practice their skills with each other and reflect on what goes on in discussions. We involve our young people in this process as well. We don't know how this will impact how we do things in five, ten, twenty years.
Do you think p4c is necessary to children? Why?
I think regular access to a healthy community of inquiry is important if we want our children to thrive. We now have teens who are beginning their fifth year of weekly philosophy discussions, and we have graduates of our programs who always seem to find their way back to our discussions when they are home from school during breaks. Being members of a thinking community has become an important part of their identities. While we are still working to evaluate the long-term impact of our programs using both objective and subjective measures, I can tell you what we see happening.
Our participants bring all of their experiences into discussions, including what they learn at school, at home, from friends, from popular culture, and on the internet. They learn how alike yet different their experiences are from those of their peers. They become proficient in asking questions about their experiences then finding the questions that underlie those questions. They tell us that they do this on their own, with friends and family, and that (with varying degrees of success) they raise philosophical questions in class, but they recognize that they do some of their best thinking when they come together in a community that exists for that purpose.
 Our young people have also become comfortable exploring the same big questions again and again and again. Two weeks after declaring that he would not discuss the nature of human consciousness yet again, a thirteen-year-old participant asked, "What is consciousness, anyway?" That participant is now sixteen and still happily diving into the question of consciousness.
There are several things happening here that we expect to serve our participants as they grow up:
An understanding that quality thinking requires the ability to synthesize information from multiple sources and the ability to evaluate sources
An understanding that thinking can be most productive and fulfilling when it is done in community
An understanding that asking questions can both accomplish what we need it to at any given time and that there are always questions beyond those questions
The experience of, as one eleven-year-old participant put it, "watching our minds grow." Thinking about thinking helps young people to recognize that they are in control of how they learn. It helps them to develop a habit of self-reflection that improves emotional regulation and decision-making. It helps them to better evaluate the thinking of others and affords them the joy of marvelling at their own growth.
Our hope is that kids who grow up in thinking communities like ours will become workers who are good at collaborating to solve problems and who find satisfaction in their work because they are able to reflect on why they are doing it. We want them to grow up to be citizens who are able to recognize injustice, who are better at deciphering the statements and intentions of those with power, and who enjoy being engaged and engaging others in democracy. We want them to be individuals and family members who derive more satisfaction from their relationships because they think about the value and meaning of human interactions. There are lots of ways to cultivate these qualities, but philosophy is a comprehensive approach that can be practiced as a way of life.  We advocate introducing children to the philosophical way of life as early as possible.
Nowadays children ( @ Portugal) have a lot of activities at school and after school. Why should we take philosophy to schools?
 All of the benefits I have described above are excellent reasons to integrate philosophical thinking in school curricula, but we don't think we skipped a step by establishing our programs outside of schools. Just as a young person might identify as an athlete, musician, or dancer, because they belong to an organization where they improve their skills through practice, our participants identify as deep thinkers because they are part of an organization where they practice thinking. They get to participate in thinking with people of all generations in many different settings. Our young people are as comfortable thinking with the adults from our local Senior Center as they are thinking with each other. They get to see that adults take their ideas seriously and regard them as co-inquirers.
What makes a question a philosophical question – from a p4c point of view?
 We train our facilitators to listen closely to what participants are saying so that they can identify the potential for questions related to the branches of philosophy—questions about knowing, being, ethics, power, beauty, and ultimate reality. It's a skill that they can only develop with guidance and practice.
We encourage our participants to look at external reference points to answer questions then, as the discussion progresses, we typically move to questions that are less and less answerable through external reference points. In one way or another, we often end up asking ourselves if we can really know anything.
 If epistemological questions were the only valid philosophical questions, however, we wouldn't get very far. Instead, we try to recognize that most questions contain underlying questions that can't be answered with an external reference point. We enjoy exploring the bigger philosophical questions, but we also appreciate the process of uncovering them. Every question along the way matters because we still have to make practical and ethical decisions even when we question the fundamental nature of reality.
The most important thing is for the group to be able to retrace their steps in a discussion and identify the kinds of questions they were asking and the kinds of thinking they were doing. Participants and facilitators derive satisfaction and pleasure from seeing how the group reasons from the concrete to the abstract. They get good at doing it and at seeing when and how abstract ideas should inform actions. If the goal of a philosophy discussion is to engender some kind of change in thinking and even in action, then it is as important to ask participants about how they are thinking as it is to ask them what they think.
What's the biggest challenge p4c faces, nowadays?
I don't know much about the challenges P4C faces worldwide, but I know that we struggle against perceptions that what we do is only for people with a certain aptitude. That is why outreach is an extremely important part of what we do.
The best way to demystify philosophy is to get people doing philosophy together. It is also vital that we establish our groups as safe, inclusive spaces where young people can be themselves even if they don't feel welcome in other places. This requires continuous attention and care.
Non-profit organizations like ours also live and die by the funds we can raise. Our biggest supporters are those who have directly benefited from our work, either as individuals or families. Our challenge as we grow will be to show those who have not directly benefited that "thinking about thinking" is a marketable skill that will measurably improve the lives of our participants and the life of society.
Can you give the teachers and the parents some kid of advice to help them deal with the children's questions?  Accept influence from children. Let go of the idea that you are supposed to have answers. Let go of any preconceived ideas you have about the kinds of questions children are capable of exploring. Let kids see your own curiosity. The beauty of philosophy discussions is that a facilitator is also a participant. Make sure they know that you are all in this together.
I also suggest encouraging children to identify all of the kinds of information they would need to truly answer a question to their satisfaction then heading off in the direction that interests everyone the most. Give the kids responsibility for making sure this process is a democratic one.
 Thinking about a question such as, "Why do I need to study math?" might begin with easy answers such as "to manage your money," or "to qualify for a career in a STEM field," but it can lead to lots of fascinating questions about things like economic models, the value and meaning of technology, why society values some jobs more than others, what math and poetry might have in common in describing the universe, knowledge for the sake of knowledge, the relationship between models and reality, and whether or not numbers are real. Often the question you start with will lead back to other questions that were raised in the beginning.
Help the group pay attention to how the discussion progresses, and retrace your steps when necessary. Don't worry if the discussion doesn't address every potential question that comes up. If you have these discussions regularly, you will find that questions will come up again and again, giving the group opportunities to think about them in new ways.
Did the children ever surprised you with a question? Can you share that question with us?
We went into this believing that children are deep thinkers so, while I can say that their questions have delighted me, I can't say that they have surprised me. In our early days, I did experience more anxiety than I do now about participants who speak up less frequently or rarely at all. Not only have we noticed that most participants speak up more as time goes on, we have found that their fiction, poetry, drawings, and notes indicate that they had been thinking with us all along. We check in with participants and their family members at individual conferences so we often get to see how families become their own communities of inquiry. We are very privileged to remain connected to these families over the years. I suppose we never stop being surprised by how our kids grow into their roles as philosophers. You would think we would have learned by now!